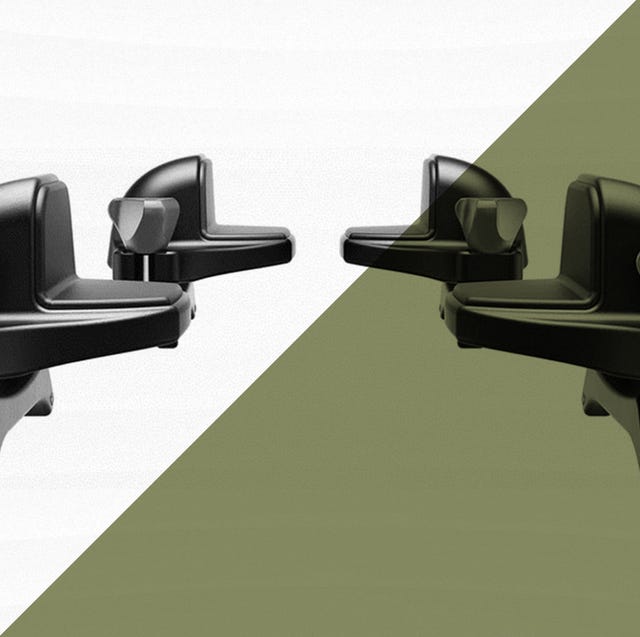 Popular Mechanics; Courtesy Thule
Canoeing is a relaxing way to explore the outdoors, but rigging up a DIY solution to strap one to your car's roof can prove to be a stressful start to the day. Canoe racks keep your canoe safe and secure while you're on the road, and there are models that are compatible with all sorts of vehicles, from sedans and SUVs to pickup trucks and even trailers. Most are designed to attach to factory-built or specialty racks that are already installed, but there are also options available for bare roofs, so you can always count on bringing your canoe along on your next outdoor adventure.
Best Canoe Racks
What to Consider
The most important factor to think about when selecting a canoe rack is compatibility—the rack you buy needs to fit both your car and your canoe. You'll want to make sure the product will fit onto your car's existing roof racks, whether you have a factory rack or a specialty system, or, if you don't have a rack, buying one that it works with your car's bare roof. It's also important to check the rack's load capacity, or how much weight it can safely hold, to ensure your canoe is safely supported.
Other things to consider include ease of installation, how the canoe is loaded, and whether the rack comes with all the necessary straps and tie-downs.
How We Selected
To find the best canoe racks, we looked for top-rated products from respected brands like Yakima, Thule, Rhino-Rack, and more. We evaluated each product based on its rack compatibility, load capacity, and ease of use, prioritizing options that work with multiple styles of roof racks, as well as a few choices for cars without racks already installed.
We aimed to include options for a range of vehicle types, and consulted user reviews to get a sense of each canoe rack's strengths and potential shortcomings. Also, every canoe rack we write about has an average customer rating of 4 stars or more.
Advertisement – Continue Reading Below
1
Best Overall
KeelOver Canoe Carrier
Universal fit
Tool-free assembly
Cushioned saddles
Key Specs
Load Capacity: 119 lb.
Compatible Racks: Universal
Straps Included: Yes
The Yakima KeelOver Canoe Carrier is a top choice for transporting your canoe. It comes with four saddle-style holders that can be installed without any special tools, and their universal design fits onto most Whispbar, round, square, and factory bars.
The saddles are made from rubber that cushions the canoe gunwales while holding it steady, and bow/stern tie-downs as well as straps are included.
This rack has a maximum weight load of 119 pounds, which is more than sufficient for most canoes, and the product is extremely well-made, so you can use it for years to come.
2
Budget Buy
Boats Canoe Car-Top Roof Carrier Kit
Reasonable price point
Easy to install
Works with most vehicles
Key Specs
Load Capacity: Not listed
Compatible Racks: Universal; bare roof
Straps Included: Yes
If you don't want to spend a lot on a canoe rack, this budget-friendly option works with most vehicles and is your best bet. The pads can be used with bare roof cars, as well as most factory rack systems, and the nonskid foam blocks help to protect both your car and the canoe.
The kit works with canoes up to 14 feet long and 32 inches wide, and it's incredibly easy to install—just place the pads on the roof of your car and load up your canoe. The kit comes with multiple straps to tie the boat down, as well as a storage bag for all the components.
3
Best All-in-One System
Big Foot Pro Universal Car Rack
Everything included
Universal fit
Moderate price
Key Specs
Load Capacity: 90 lb.
Compatible Racks: Universal
Straps Included: Yes
For an all-in-one solution to transport your canoe, this system saves you from having to buy additional straps or other supplies. There are four padded gunwale brackets, four universal-fit mounting blocks, and eight 40mm and 50mm mounting bolts with T-knobs, plus one set of bow and stern safety tie-downs and two 12-foot buckle straps.
The rack can hold canoes up to 90 pounds, and its universal design can be attached to round, square, or factory oval-cross rails. The saddles are made from durable polycarbonate, and they feature padding to protect your canoe and your car.
4
Best for Bare Roof
Universal Inflatable Soft Roof Rack Bars
Universal fit
No roof racks needed
Includes air pump
Can't be used on cars with side-curtain airbags
Key Specs
Load Capacity: 175 lb.
Compatible Racks: Not required
Straps Included: Yes
If you don't have a roof rack on your car, this option allows you to safely transport your canoe without damaging your vehicle. The inflatable bars can be installed on just about any car, and they're secured with five metal D-ring anchors.
The bars are certified for use at highway speeds and have a high load capacity of up to 175 pounds, plus you can install them in a matter of minutes without any tools. The inflatable racks come with heavy-duty tie-downs, bow and stern lines, and a pump for quick and easy inflation. The only caveat is that they can't be used on cars with side-curtain airbags.
5
Best Saddle Rack
Nautic 570 Series Kayak/Canoe Carrier
Large surface area
Side- or rear-loading models
Universal fit
3-year warranty
Tools required for installation/removal
Key Specs
Load Capacity: Not listed
Compatible Racks: Universal
Straps Included: Yes
The Rhino-Rack Nautic 570 provides extra stability for your canoe or kayak thanks to its saddles, which feature a large contact surface area. They'll hold your craft securely as you drive, and they feature universal mounting hardware that fits elliptical, round, and square roof rack cross bars.
This rack comes in both side- and rear-loading configurations, depending on how you like to load your canoe, and two 18-foot tie- downs with buckle protectors are included. The system is also UV-resistant and waterproof, and it's backed by a 3-year warranty, as well.
6
Best for Thule Racks
Portage Canoe Rack
Easy to load
Cushions canoe
Quick Draw tie-downs
No stern/bow straps included
Key Specs
Load Capacity: 100 lb.
Compatible Racks: Thule; round bars; most factory racks
Straps Included: Yes
Thule is an extremely popular car rack manufacturer, and if you already have a set of Thule racks on your vehicle, the Thule Portage Canoe Rack is the best way to transport your canoe.
The four saddles are compatible with any Thule rack, as well as round bars and most factory racks, and they have a maximum weight capacity of 100 pounds. It's easy to load your canoe into the rack thanks to ramped sides, and the cushioned base provides padding to prevent your canoe from being scratched in transit.
The rack also comes with tie-downs that have buckle bumpers, to protect both your car and canoe from scratches.
7
Most Versatile
Locking Roof Carrier
Works with multiple crafts and boards
Universal fit
Rubber-coated straps
Pricey
Tie-downs not included
Key Specs
Load Capacity: Not listed
Compatible Racks: Universal
Straps Included: No
The rack isn't just limited to canoes—it can be used to transport kayaks, surfboards, paddleboards, and more. It has a universal design that fits onto square, round, Aero, and most factory bars, and its floating strap design makes it easy to load your craft or board onto the carrier.
Its straps have a rubber coating that helps prevent scratches or scuffs on whatever you're transporting, and it comes with board pads and locking covers, as well. However, if your crossbar height is between 1.25 and 2 inches, you'll need a long bolt kit (sold separately) to use this carrier.
8
Best for Trucks
GoalPost
Heavy-duty build
Height-adjustable
Solid load capacity
Anti-wobble design
Saddles not included
Pricey
Key Specs
Load Capacity: 165 lb.
Compatible Racks: N/A
Straps Included: No
If you're looking for a way to transport your canoe in a pickup truck, the Thule Goalpost is a worthwhile purchase. This attachment mounts into a 2-inch hitch, and it's made from heavy-duty corrosion-resistant steel with an anti-wobble design.
The Goalpost can hold crafts up to 165 pounds, and its height adjusts between 46 and 67 inches to accommodate different trucks. It includes a 58-inch load bar where you can attach watersport carriers, and there are even two load stops for extra stability while you drive.
However, keep in mind that this product doesn't include saddle attachments—you'll have to purchase a product like the Thule Portage Canoe Rack separately.
9
Best for Trailers
Trailer Roof Ladder Rack
Works on enclosed or open trailers
High load capacity
Wide range of applications
Lumber and straps not included
Key Specs
Load Capacity: 100 lb./crossbar
Compatible Racks: N/A
Straps Included: No
This setup is designed to be mounted on top of enclosed or open trailers, and its durable brackets are made from extruded aluminum. Once the brackets are mounted, you install 2×4 lumber (not included) to act as crossbars, and the load capacity is 100 pounds per crossbar—more than enough to support a canoe. Just keep in mind that this product is solely a rack system for a trailer, so it doesn't include the straps or clips needed to secure your craft.
This content is created and maintained by a third party, and imported onto this page to help users provide their email addresses. You may be able to find more information about this and similar content at piano.io
Advertisement – Continue Reading Below