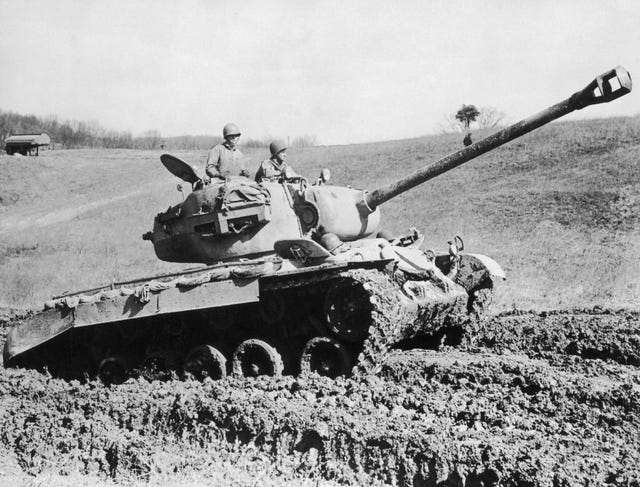 Keystone-FranceGetty Images
A military history museum in Massachusetts that specializes in tanks is sponsoring a fundraising sweepstakes.
The prize is the once-in-a-lifetime opportunity to drive three World War II tanks.
The M4 Sherman, M24 Chaffee, and M26 Pershing tanks formed the backbone of the U.S. Army's armored corps during the war.
---
The American Heritage Museum, a museum that explores America's wars from the Revolutionary War to today's Global War on Terror, is sponsoring a fundraising sweepstakes benefitting the museum. Icons of Armor: The Ultimate WWII Tank Experience will allow one lucky winner and a guest to drive three U.S. Army tanks from the war. The winner will also get a hands-on tour of American, Russian, German, and British tanks.
➡ You love badass military tech. So do we. Let's nerd out over this stuff together.
The museum, part of the Collings Foundation of World War II aviation fame, is located at Stow, Massachusetts. The foundation created the museum after it received 85 tanks and armored vehicles from the collection of noted collector Jacques Littlefield, and built a 65,000-square-foot indoor space to house them.